Dashboard Confessional kicked off their 20th anniversary tour #DC20 last month with support from Piebald (West Coast) and The Get Up Kids (rest of tour). In most cities, Dashboard played two nights: one night to play "The Places You Have Come to Fear the Most" in full, and the other to play the entirety of "A Mark, A Mission, A Brand, A Scar." In some cities (like Pittsburgh), the band is doing just one night and playing a set of all their greatest hits. Needless to say, fans were super excited for the tour and most shows sold out before it even started.
The show in Pittsburgh was originally scheduled for doors to open at 7, but was moved up to a half hour earlier. I got to the venue around 7:20 and the line was still wrapped around the side of the building! Luckily, I was able to go through a separate entrance since I had my camera gear 😉 I made it inside just in time for The Get Up Kids to take the stage.
The Get Up Kids
I've seen The Get Up Kids twice before, once at Riot Fest, and then again at a Riot Fest aftershow with Taking Back Sunday. This is my first show really knowing their songs though. And honestly, the amount of songs I did know surprised me.
A lot of the band's setlist came from their 1999 classic "Something to Write Home About," but they also played a few songs each from their other releases. Unfortunately, no one has uploaded the set list yet, but I do remember they closed with their iconic song "Ten Minutes." Another favorite of mine they played was "The Problem Is Me." Although a lot of the crowd didn't seem to be familiar with them, many people were singing along by the time they played "Ten Minutes".
Although typically classified as an 'emo' band, you wouldn't know that from watching their live set. Much like Saves the Day and other peers of the era, their live set is extremely fun. Most of the songs they play fall on the pop punk spectrum, and are enjoyable even if you aren't familiar with them. I loved how fluidly TGUK connected their songs together, and I found the way that they drew out their last song to be more captivating than other bands.
Dashboard Confessional
Admittedly, I haven't actively listened to Dashboard Confessional that much. I know "Vindicated" and "Hands Down" from the bunches of times the local radio station played them when I was a teen, but I don't know much passed their hits. I was super excited to check them out though, especially because DC is one my favorite band's favorite bands (shoutout to Sundressed, love y'all).
I talked to some of the fans in the front row before the set and many had come from far and wide to see the Dashboard once again on this tour. You can always tell a show is special when people are willing to travel so far when they've recently seen them closer to home.
Around 8:45, DC frontman Chris Carrabba took the stage alone with an acoustic guitar and played "The Best Deceptions." As the song progressed, more and more fans joined in and sang along making it a truly beautiful start to the evening.
The rest of the band joined in to play their hit song "Vindicated." While that song got pretty overplayed in the mid-2000s, it was quite magical to see live.
Before playing "We Fight," Chris reminded the crowd to wash their hands and to vote in the upcoming presidential elections. Seems like it's pretty much impossible to escape those topics in the world right now. Another notable moment was the singalong at the end of "Screaming Infidelities." I was in the back of the venue, and the crowd was almost as loud as the band!
Dashboard played 19 songs in total, ending the night with an encore of "Stolen" and "Hands Down." It was really cool to finally hear some of the songs I grew up with played live and to experience some of the their other songs that were new to me. I had an amazing time and now I have a few new favorites to listen to!
Merch
Both bands had a lot of great merch available. Check it out:
(The Get Up Kids also had a bunch of their records for sale on their table.)
Remaining Dates
Dashboard Confessional still has upcoming dates in New York, New Jersey, D.C., Philly, Boston, Orlando, Atlanta, and Nashville. All dates are sold out, but keep an eye out in case they add some last minute tix.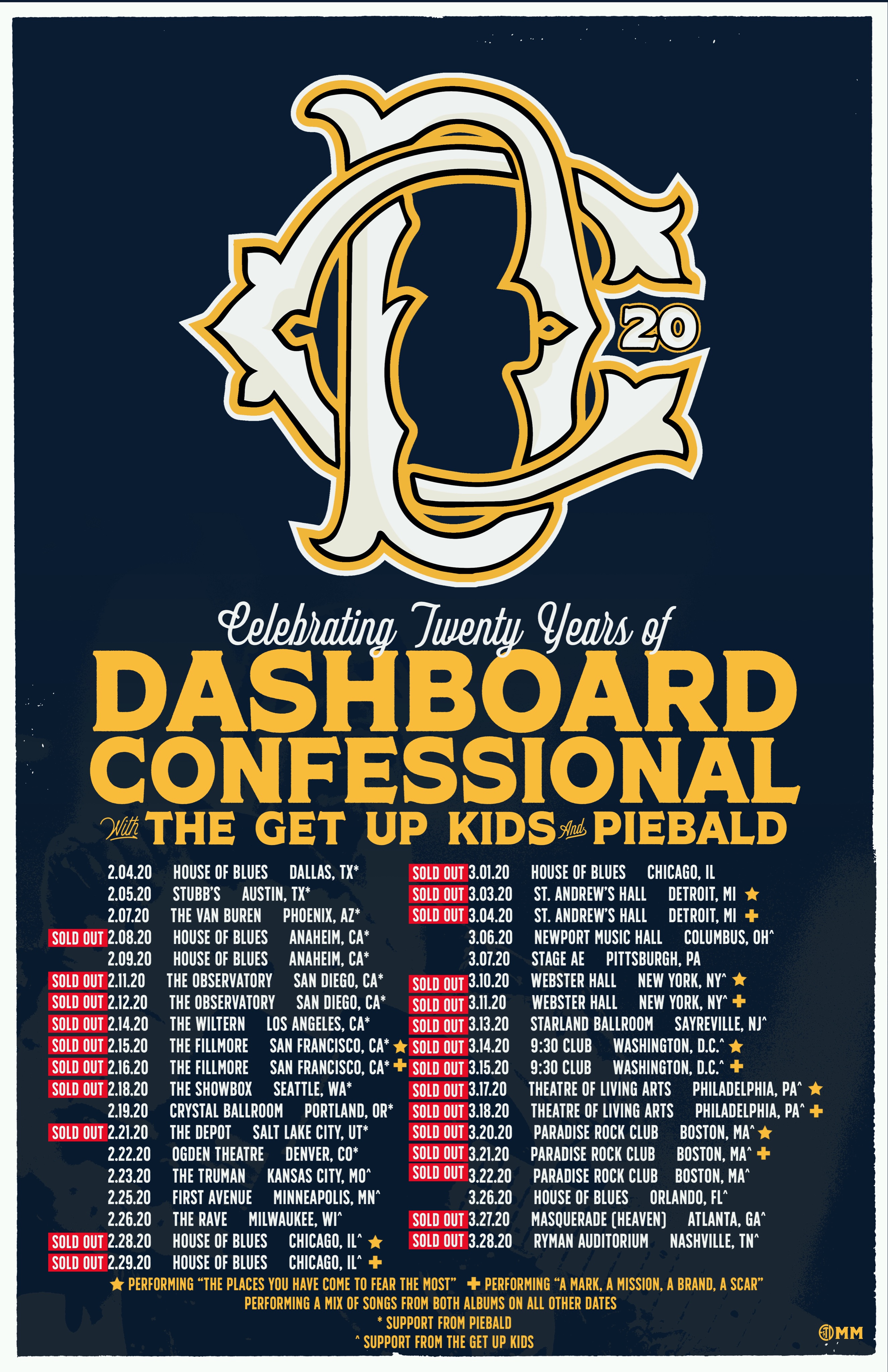 Were you at this show? Add it to your Concert Archive, and let us know what you thought in the comments below.
Need more shows to go to in March? Check out 11 tours not to miss this month!