As the days get longer and the weather gets warmer, the end of February brings the start of the spring concert season. From 20th Anniversary shows to first full US tours, there's plenty of amazing tours happening over the next month!
Looking to catch some live music this March? Here's 11 upcoming tours to check out!
---
Dashboard Confessional's #DC20 ft. The Get Up Kids and Piebald
Now – March 28
Continuing through the month of March is Dashboard Confessional's 20th anniversary tour, where the lucky fans who got tickets will be able to hear the band's second and third albums in full. Most dates are sold out, but tickets for DC20 still remain in a few select cities. If you're on the East Coast, March is your time to catch this celebration of the band that gave us "Hands Down" and "Screaming Infidelities" so many years ago.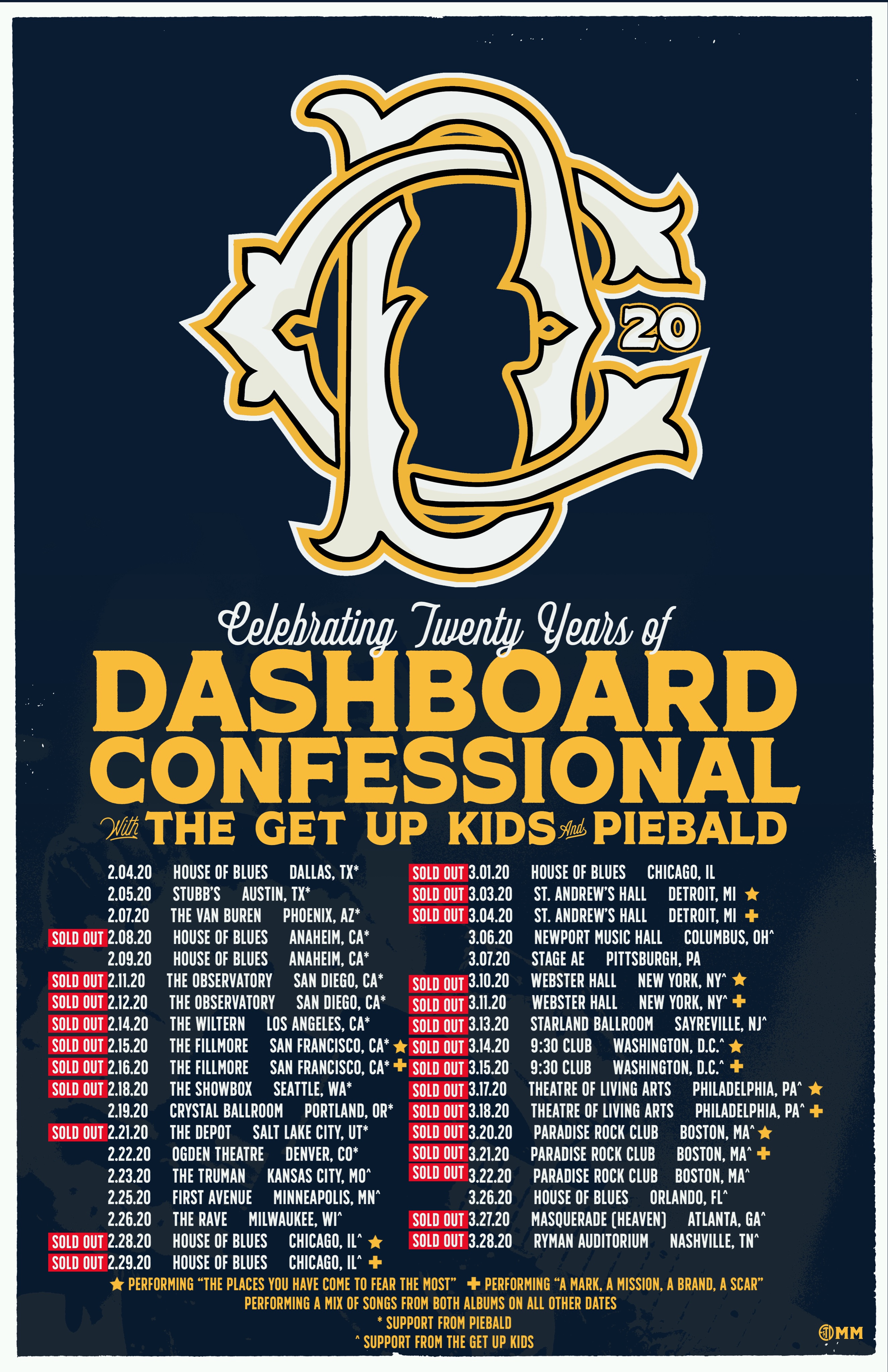 ---
The Wonder Years with Free Throw, Spanish Love Songs, and Pool Kids
Now – March 21
Just last week, iconic pop punk band The Wonder Years kicked off their newest US tour in support of their recent EP Burst & Decay (Volume II), a collection of reimagined rerecordings of previously released The Wonder Years songs. The band will be playing acoustic and electric sets each night, and will be supported by Free Throw, Spanish Love Songs, and Pool Kids. This tour is absolutely stacked and is likely to sell out, so grab tickets for TWY now if you're planning to go, and make sure you get there early to catch all of these incredible bands.
---
Knuckle Puck with Heart Attack Man + more
Now – March 23
Also just last week, Knuckle Puck hit the road for their almost entirely sold out headlining tour with support from Heart Attack Man. There's still tickets to see Knuckle Puck available for some of their shows, so grab them while you can, because who knows when there'll be another chance to catch KP in such intimate venues. Check out a review of the Cleveland show!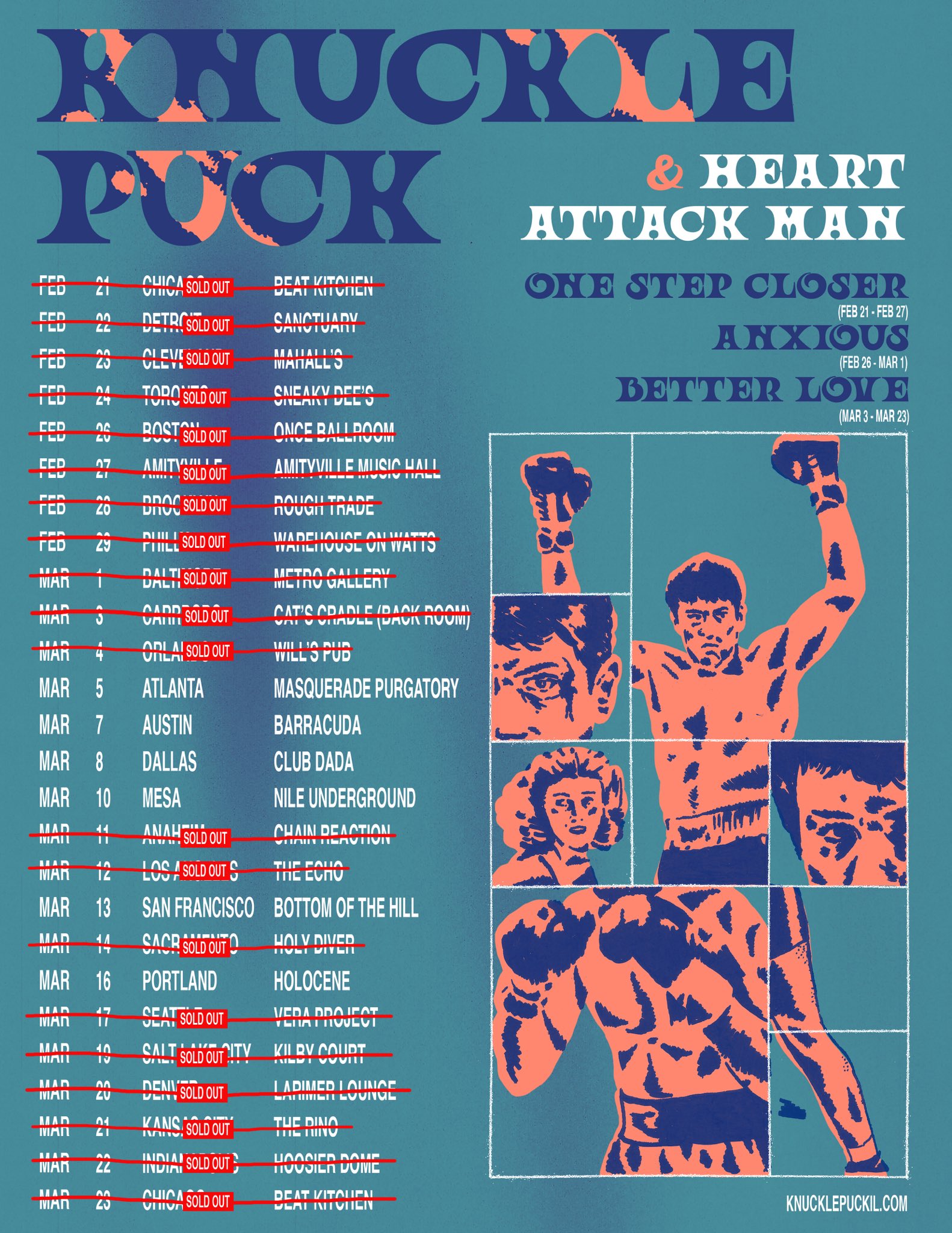 ---
Microwave's Death Is A World Tour
February 28 – April 4
Starting tomorrow, Microwave begins the North American leg of their 'Death is a World Tour.' The first half of the tour will see A Will Away, Bad Luck, and Weakened Friends as support; the second half will catch Elder Brother, Save Face, and Dogleg. Tickets for Microwave are only $16 in most cities, which is a great deal for these four bands, and it also might be your last chance to catch Save Face until they release a new album, so don't miss out!
---
Silverstein's 20 Year Anniversary Tour ft. Four Year Strong and I the Mighty
February 28 – April 11
Silverstein is also celebrating their 20th anniversary this year with a US tour where they'll play not one, not two, but three sets each night: an acoustic set, a greatest hits set, and Discovering the Waterfront (2005) in full. They'll be joined for support by Four Year Strong and I The Mighty. Tickets for Silverstein are already sold out in some places, but in most cities they're still available for around $25.
---
Against Me! with Stef Chura
March 11 – April 4
Starting on March 11, East Coasters can catch Against Me! on tour with Stef Chura. This tour is for those who don't live in huge cities, so you won't be able to see them in Philly or NYC this time around, but those who live elsewhere may be in luck! Tickets are around $22 to catch these great musicians in places that are often overlooked when it comes to live music.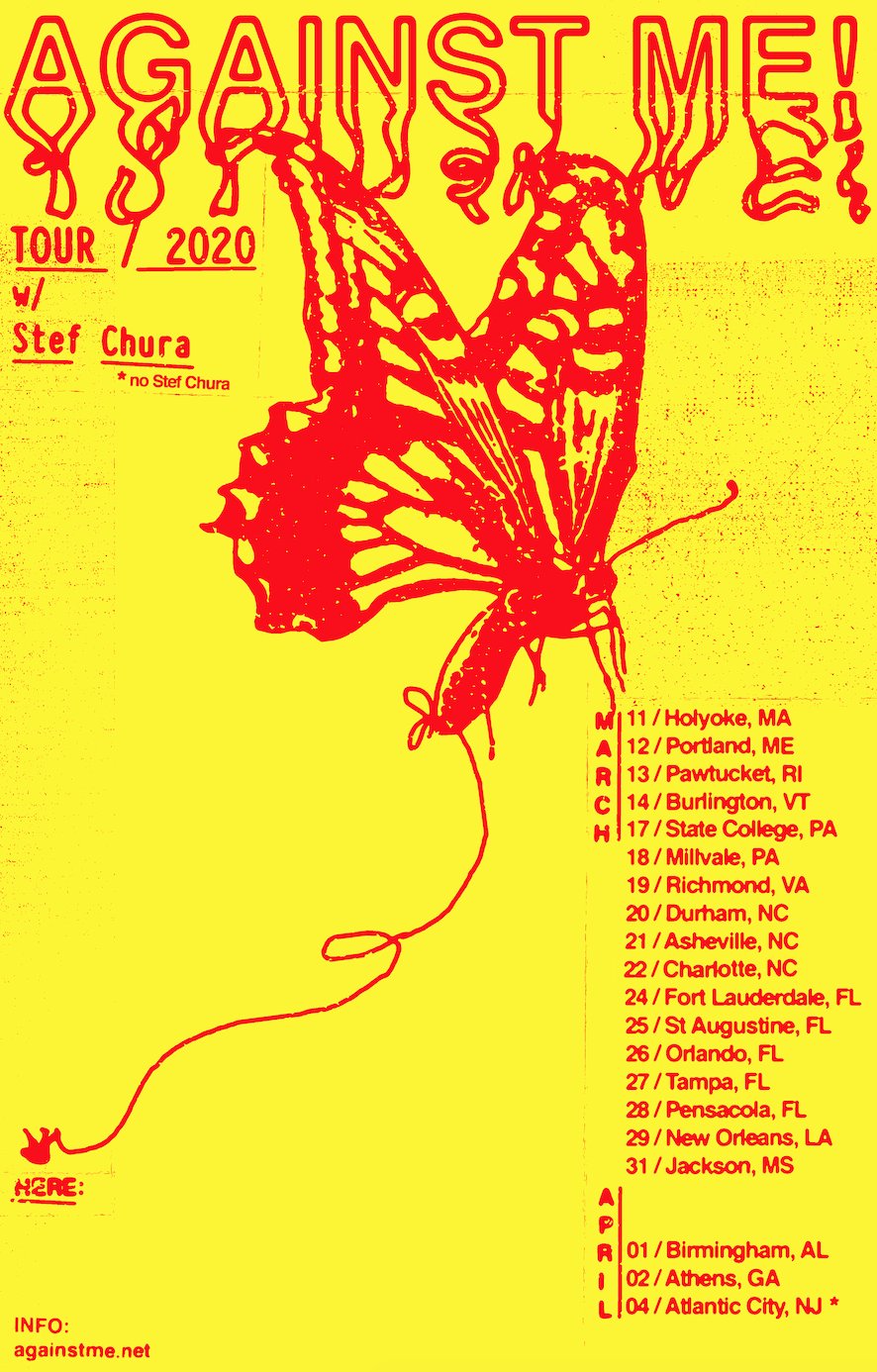 ---
Oso Oso's Circus Tour ft. Prince Daddy & The Hyena, Just Friends, and Sincere Engineer
March 11 – March 30
Also on March 11, the first leg of the Circus Tour with Oso Oso, Prince Daddy & The Hyena, Just Friends, and Sincere Engineer kicks off at The Foundry in Philadelphia. The tour hits up a bit of the Northeast Coast before heading out to the Midwest. This tour is definitely not one to miss, and tickets start at just $18 in most cities. If you don't live in any of these cities, have no fear, leg two of the tour (with Macseal instead of Sincere Engineer) kicks off on April 1!
---
Graduating Life with King of Heck and Delta Sleep
March 11 – April 11
Want to catch another rad tour that starts on March 11? Check out Graduating Life, kicking off their first US tour since 2018 in St. Louis, MO. They'll be playing with King of Heck (fka Alaska) and Delta Sleep across the states for the next month. Tickets for Grad Life in most cities are just $13, so don't sleep on these shows!
---
Anti-Flag's 20/20 Vision Tour ft. Grade 2 and Doll Skin
March 11 – March 28
Sensing a theme here? Well, Anti-Flag's 20/20 Vision North American tour also starts March 11. If you live in the Eastern Time Zone (or Nashville), there's probably a nearby city where you can catch Anti-Flag with Grade 2 and Doll Skin. Tickets are only ~$20 (~$30 in Canada), which is a great deal to catch these three absolutely incredible bands.
Live elsewhere in the US? No worries, there's a second (longer) leg of the tour starting in May with Bad Cop/Bad Cop and Grumpster.
---
Citizen with Fury and Snarls
March 20 – March 29
A little later in the month, Citizen starts the first half of their headlining tour in Detroit. They'll be supported by Fury and Snarls on this run, and tickets are about $22. For our West Coast friends, Citizen will be out your way in April with Wicca Phase Springs Eternal and Rosie Tucker.
---
Bad Religion and Alkaline Trio with War on Women
March 24 – April 19
Want to catch a bigger show this month? Label mates Bad Religion and Alkaline Trio are hitting the road together with War on Women starting on the 24th in California. This isn't a lineup most people would have predicted, but it's sure to be a good time! Tickets are $35, but given that's how much it may cost to see either band alone, why not see both at once?
---
Which shows are you planning to see this month? Let us know in the comments!