Once again we're back with updates on the upcoming live music events in 2021 and beyond. Since our last update two months ago, things have gotten a little more hopeful for (safe) live music in 2021. Vaccines are rolling out and festivals have made some major announcements (and sales). And of course, the livestreams keep on streaming, so we've got some updates on those as well!
Live Streams
Veeps
Veeps is still bringing the streams! Their most notable upcoming events include Retirement Party on Audiotree (March 11), Bad Suns' Disappear Here show (March 13), Julian Baker on Audiotree (March 25), Waterparks' Anti Tour performance (March 27), Sponge (March 27), and Cradle of Filth (May 12).
Check out all the upcoming events on Veeps' site, or on their socials: @Veeps on Twitter and Instagram, and @VeepsOfficial on Facebook.
The Alternative Streaming Sundays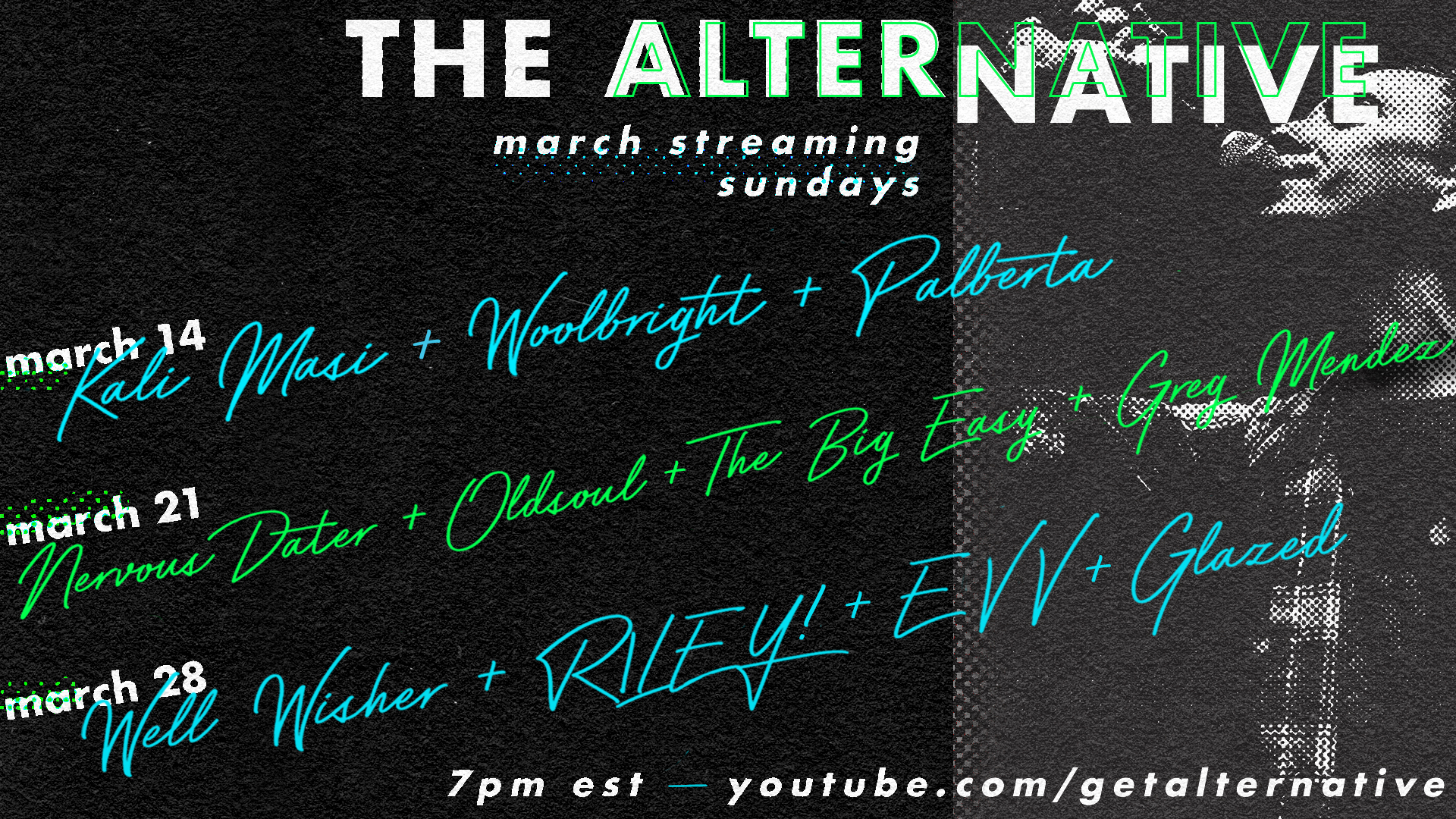 Each Sunday, The Alternative hosts a live stream on their YouTube channel. As you can see above, this month's shows are absolutely stacked with performances from Nervous Dater, Old Soul, Kali Masi, and a ton more awesome artists. As far as I can see, The Alternative doesn't list the shows on their website (but they do post them on socials), so the easiest way to see what's upcoming is to peep the Don't Let the Scene Go Down on Me Instagram.
Around the Campfire
Another livestream series with weekly events is Around the Campfire, hosted by Long Neck each Friday. Upcoming performers include Cold Wrecks, niiice., and Long Neck themselves! Check out upcoming events at AroundTheCampfire.online.
Vaccines and COVID-safety: Are shows possible this year?
In January, the New York Times reported that Dr. Fauci believes that medium-sized venues should be able to open sometime mid-Fall once the US reaches herd immunity, as long as venues are properly ventilated.
According to a Wall Street Journal article from last week, LiveNation CEO Michael Rapino believes outdoor amphitheater shows will be back by summer. AEG CEO Jay Marciano believes full-capacity club and theater shows will be back this fall.
Also last week, Biden stated that the US will have enough vaccines produced for all adults by the end of May. Just yesterday, the CDC stated that those who are fully vaccinated are able to safely gather with one another without masks and social distancing. Though not everyone is able to get vaccinated (due to health or personal reasons), each step towards herd immunity and being able to gather safely is a step closer to the return of concerts! For more information on how the Covid vaccines work, read this article from the CDC or view this 5-minute video from AsapScience about mRNA vaccines from December.
Since outdoor ventilation can help rapidly disperse covid particles from those infected, it's generally safer than indoors, but still not a completely safe bet without other precautions. It's quite likely that more outdoor shows, such as the drive-in shows we saw last year and other outdoor events, will be back before indoor shows of similar size.
Across the pond, U.K. authorities have okayed large music events starting in late June. Following the government's announcement, the iconic Reading and Leeds Festival went on sale, selling over 100,000 tickets and selling out of weekend passes that same day. It's clear that all us music-lovers are hungry for live music, and hopefully we can safely get our fix soon enough!
Live Events Planned for 2021
So what events in the US are planned for this year? Lets take a look!
Concerts Currently on Sale
As of writing, here are the events currently on sale:
Festivals:
Tours:
Dates set, not yet on sale
These are the festivals and events that have dates set, but are not currently on sale:
Awaiting Updates